A week to go
to TCI bookday!
It's been a long time since I was this excited about an upcoming book release. Looking back, and I mean way back, I think what stands out most is how different everything was before.
For my actual debut - we're talking 2003, no real way to get any sort of status update on the internet, I'm still fairly new to Delhi, no Facebook, no Gmail, even. No one seemed to know when Simoqin would actually be on shelves, and of course there was no book launch or tour or anything, and the reviews had started coming out one weekend but there was no actual book anywhere for people to buy! The next weekend, this was in the last few days of 03, I took an auto to Khan Market, went to the Book Shop, and there it was in the New Releases section. The legendary Mr. Singh was in the store, no one else was, and so no one was around to see my face when I realised that I had handed him my new debut book and debit card and he would be able to see my name on both. Always carry cash when buying your own nonsense. His face flickered for a second, we made eye contact, and he chose kindly to say nothing.
There was no question of that book release being stressful, it was just very exciting, and I had no expectations at all - that I was getting published was everything. Things really picked up in Jan 04, when the books unambiguously turned up around the country, and it turned out that the reviews were all very good, and bestselling started… I knew I was lucky, but it was already very clear that doing this long-term would be a massive challenge.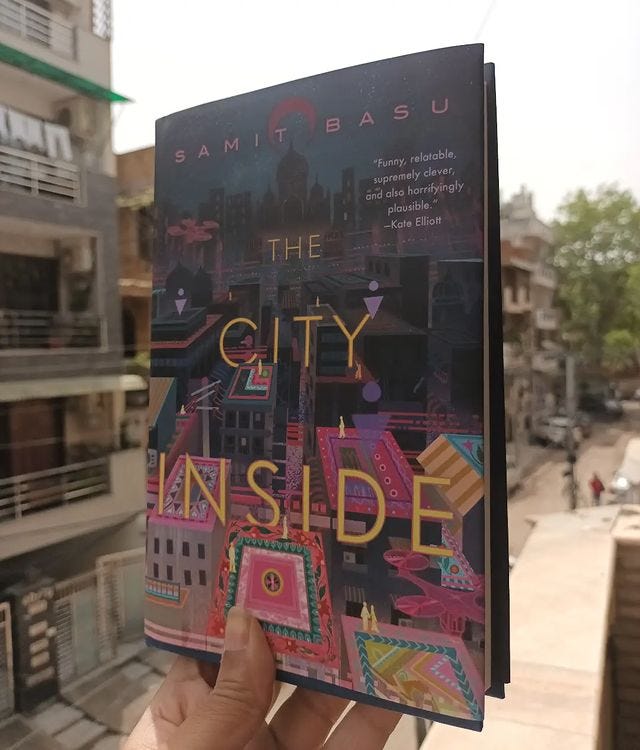 And yet somehow, many years and many books and a whole heap of other stuff later, The City Inside is out next week in North America from Tordotcom, and it's still terrifying and really exciting. And while this just makes me sound more elderly than I feel, the sheer difference between then and now is amazing to me - Systems! Communities! Information! Social media! Communication! I've been lucky again - I had an unfashionably gushaboutable experience in pre-publication with my publisher, editorially, marketing/promowise, everything, and I mean, just look at their list. And their shiny GIFs! Here's one
I think working in a multitude of very chaotic systems for many years, even during easier times, has made me learn to be very grateful when things/systems are working - I've been lucky enough to have found wonderful individuals in the middle of chaos vortexes who made a career possible at various times over the last two decades, but really, this time it's been the best yet, and I'm so glad I stuck around to experience it. The good thing about publishing is you can ragequit and go away and miss writing books terribly and come back, multiple times, and everything moves so slowly that no one will even realise any of this unless you tell them directly.
So here we are, and I've cleared a bunch of pre-pub deadlines writing things I will probably be inflicting on you in the next issue, and done other things like attempt to bring my website into the 21st century and make a book page I will update obsessively over the next few weeks, leaving only that not inconsiderable planet-sized fear-lump about whether people on the other side of the planet are going to read my book. In the meantime, I'm delighted to see the book appearing on these summer/'22 anticipated/reading lists: Goodreads, io9, The AU review, SCLS New Jersey, CrimeReads and DiscoverSciFi,
There are events coming up! If you go to the embedded tweet below, there's a thread with individual links where you can sign up for any or all of them. Please do!
Also a Reddit AMA coming up, which I'll be linking to from Twitter/Insta. Do come and, you know, AMA.
One of the interesting new experiences of this promo round for TCI has been writing guest posts for newsletters. Some of the biggest names in the SFF field are kind enough to share their readerships with other writers on wonderful platforms like Whatever, Stone Soup and My Favorite Bit - it's the kind of generosity that all arts fields desperately need in these turbulent times, so having experienced it the least I can do is join in. So starting asap, I'm going to try and showcase upcoming/new work from new/established creators on this newsletter, filtered only by my sense of what its readership might find interesting. I'm not going to put any genre/medium/location/nationality restrictions on this, but if you're a creator with new work out/out soon, and you'd be interested in talking about it on this newsletter, go here to find out more.
That's about it - see you on the other side of The City Inside!
Back in a bit
If you're in the US or Canada and are considering preordering, links are here:
Do sign up to this newsletter to receive new instalments in your inbox, along with occasional only exclusives.
Meanwhile, do join me on Twitter, FB or Instagram, or drop in at my website.
Couldn't resist also adding this GIF, I am deeply in love with it.